CARRYBOY Company, Global leader in mobile special unit modification to suit all purpose of usage and the world's largest manufacturers of fiberglass productions.
Company

History
1969
— Establish T.R.K. Bangkok Industry & Exporter Co.,ltd for whole sale 2 retail spare parts business both domestic and export.
1982
— Start production of fiberglass canopy for pickup truck under brand
"CARRYBOY"
1986
— TÜV certificated from Germany, TIS (Thailand Industrial Standard)
1989
— Establish T.K.D. Fiber Co.,Ltd for production and domestic distribution.
1997
— ISO 9001:2000
1999
— TÜV NORD certificated from Germany
Present
— Capital Registration 500,000,000.00 Baht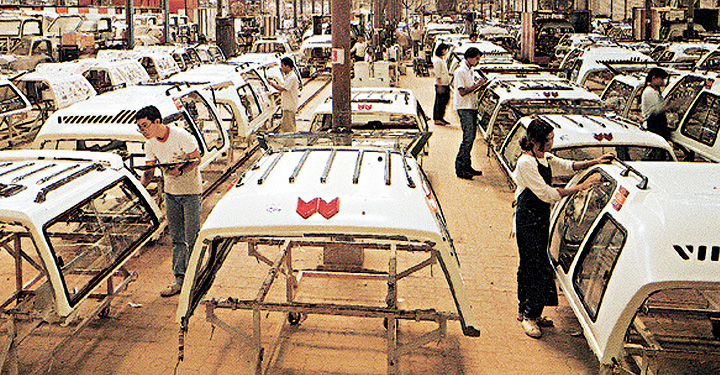 Our

largest

and
most modern factory
Eversince "
CARRYBOY
" has undergone technological development in production of
Fiberglass Canopy
and
Pickup & 4x4 Accessories
of perfect quality and design. "
CARRYBOY
" belives in the meticulousness in every process of production. Each department has its own specialist to closely supervise its operation. The factory has been invested into the largest and the most modern factory by introducing the latest technology to help reinforcing the production standard.
The production line is divided into serveral departments to create a standard skilled workmanship in every function. Selective quality materials and special designed equipment are intensively acquired with the aim to produce the best fiberglass canopy and pickup & 4x4 accessories for the World
Take a look at our

canopy

and sport lids, our options and accessories. Once you compare, we're sure Carryboy will be the ideal fit for you and your truck — The

industry leader

, for timely response and quality products since 1975.
Marketing
Domestic under carryboy marketing 7 branches and 750 dealers
Export under carryboy brand more than 150 countries
Design patented more than 200 items
Distribution
Carryboy Fleet for special project and O.E.M
750 domestic dealers and 150 countries distributor

Marketing support by carryboy leasing for carryboy dealers domestic
Production Capacity
Fiberglass Canopy 6,000 units.
Fiberglass Sport lid 1,500 units.
Grand Carryboy (Modified Pickup) 300 sets.
Commercial Conversion (Cargo Box) 150 sets.
Auto Accessories 150,000 sets.
Ambulance, Rescue 150 units.
Caravan 2 units.
Car Services (Mobile Service) 100 units.
Kiosk, Trailer, Minibus 50 units.
Fleet Sales (Made to Order)
** per month (export)
Patented
Trademark Registed under brand

"CARRYBOY"

more than 83 countries
International patented more than 21 patents
Design patented more than 400 items

Factory Address :
888 Luangphaeng Road, Tabyao, Ladkrabang, Bangkok 10520, Thailand

Management :
Mr.Teera Terati (President), Mr.Preeda Wongtangjai (Managing Director)

Total Land :
Approximately 55,752 SQ.M (34 RAI)

Building Area :
Approximately 48,500 SQ.M

Domestic Market Share :
70% for both Fiberglass pickup canopy and accessories

Domestic Dealers :
Fiberglass canopy 150 dealers
Auto accessories 750 dealers

Export Market :
More than 150 countries in all continentals.

Employees :
Approximately 1,250 Persons

Total Annual Turnover :
75 Million U.S. Dollars (2004)

Bank Data :
Krung thai bank public company limited.
New petchaburi road / a branch, bangkok, thailand
We are the only company in Thailand to manufacture a complete line of fiberglass canopies, auto accessories, tonneau covers, cargo box, cargo box cool, kiosk, trailer, ambulance, fire / rescue, caravan, commercial line and global fleet. The secret of our success is we use high quality and knowledge to develop new products and we never stop designing or improving products.

We can do almost anything!
T.R.K Bangkok Industry & Exporter Co.,Ltd.
888 Luangphaeng Road, Tabyao,
Ladkrabang, Bangkok 10520,
Thailand

ISO 9001
Quality

ISO 14001
Environmental
©
Copyright
Best view with
mobile devices